VANCOUVER, British Columbia, Jan. 20, 2023 (GLOBE NEWSWIRE) — SPOD LITHIUM CORP. ("SPOD" or the "Company") (CSE: SPOD) is pleased to report that field crews have identified Lithium-Cesium-Tantalum (LCT) pegmatites on it's MegaLi lithium project, located in the James Bay region, Québec (the "Megali Property"). Numerous claim blocks share their borders with Patriot Battery Metals Inc's Corvette property claims. The MegaLi Property is located approximately fifty (50) kilometres southwest of the LG4 reservoir.
The primary objective of the program was to evaluate the MegaLi Property's lithium potential and uncover new LCT pegmatites by geological mapping and sampling. The field trip was executed between October 23 and October 28, 2022 and despite some challenging weather conditions, SPOD is very pleased with the positive results obtained this early in the exploration cycle and is looking forward to the follow up exploration program currently being planned.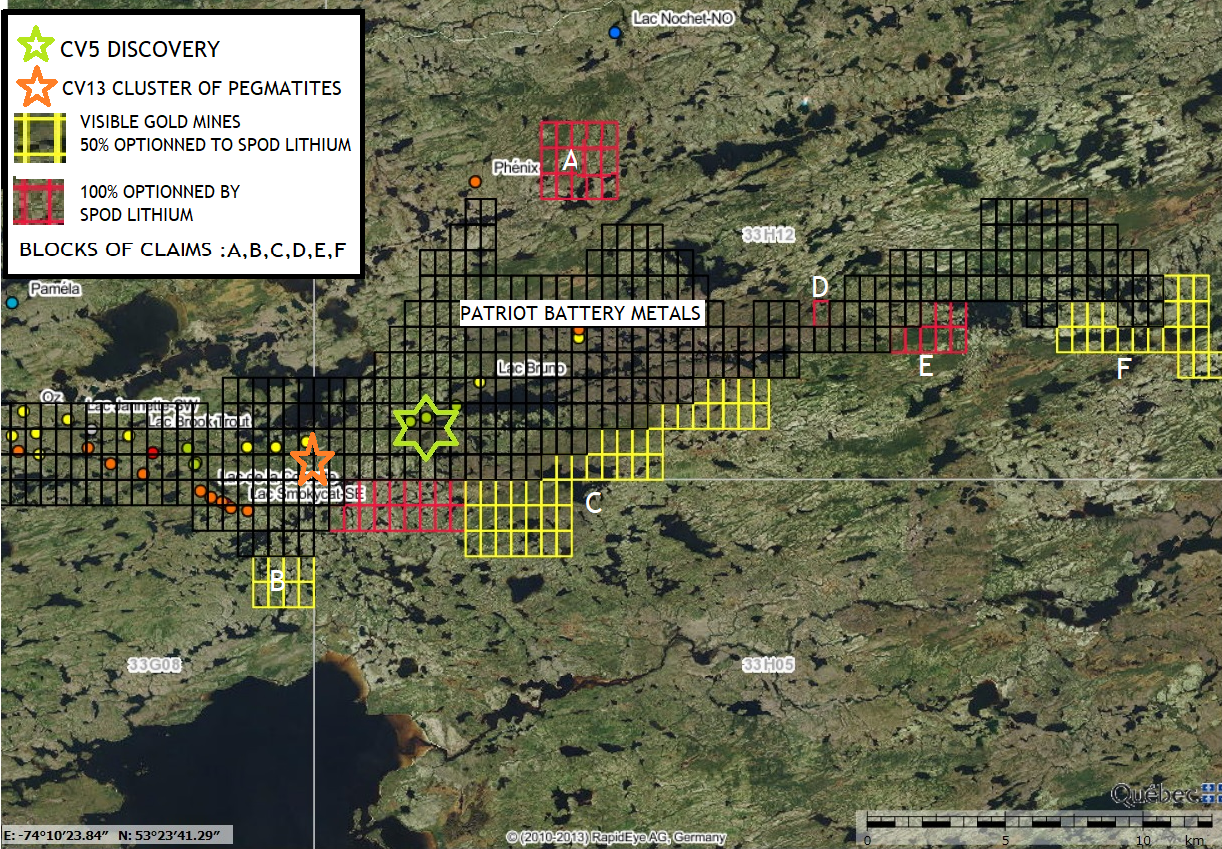 The Dahrouge Geological Consulting's report prepared in connection with the initial exploration program on the MegaLi Property highlighted that claims Block A, C and D merit a more intensive follow up. Results obtained from claim Block D can be considered as a true exploration success with Tantalum (Ta) results up to 114 ppm and Cesium (Cs) results up to 126 ppm. This level of enrichment, combined with high Rubidium (Rb) values of 2,480 ppm, is a proximity indicator for spodumene bearing pegmatites. The combination of these strong geochemical signatures within the presence of large pegmatites, highlights similarities with the CV pegmatite system. Block C also displays a strong Rb-Ta anomaly, possibly related to the same five kilometre trend. Bloc A also highlights a cluster of Rb-Ta anomalies forming a pluri-kilometric trend located close to a north-east Proterozoic dyke, easily recognizable by a strong magnetic signature. Due to the challenging weather conditions, claim Block F was not visited and marked the end of the initial exploration program.
Spod Lithium Corp. would also like to take this opportunity to congratulate Patriot Battery Metals for their drill results announced earlier this week in hole CV22-083 (see Patriot Battery Metals press release dated January 18, 2023), which returned a 156.9 metre interval grading 2.12% LiO2 at the CV5 pegmatite. The CV5 LCT pegmatite is located less than three kilometres north-east from Block C of the MegaLi Property.
Spod Lithium's MegaLi project consists of 78 mining claims covering a total area of 3,996.67 hectares (40 square kilometers). The MegaLi Property is adjacent to Patriots Corvette project (see map above) and located proximal to the Trans-Taiga Road, airport and power line infrastructural corridor in the James Bay region in the province of Québec.
Qualified Person
Jeannot Theberge, PGeo, is the qualified person for Spod Lithium Corp. under National Instrument 43-101 – Standards of Disclosure for Mineral Projects, responsible for the technical contents of this news release, and has approved the disclosure of the technical information contained herein.
About the Company
SPOD Lithium Corp. is a mineral exploration company focused on the acquisition and development of mineral properties containing battery, base, and precious metals. For further information, please refer to the Company's disclosure record on SEDAR (www.sedar.com) or contact the Company by email at cooper@venturefirst1.com or by telephone at 604.307.8290.
On Behalf of the Board of Directors
Chris Cooper
Chief Executive Officer
604.307.8290
Forward-Looking Information
Certain statements in this news release are forward-looking statements, including with respect to future plans, and other matters. Forward-looking statements consist of statements that are not purely historical, including any statements regarding beliefs, plans, expectations or intentions regarding the future. Such information can generally be identified by the use of forwarding-looking wording such as "may", "expect", "estimate", "anticipate", "intend", "believe" and "continue" or the negative thereof or similar variations. The reader is cautioned that assumptions used in the preparation of any forward-looking information may prove to be incorrect. Events or circumstances may cause actual results to differ materially from those predicted, as a result of numerous known and unknown risks, uncertainties, and other factors, many of which are beyond the control of the Company, including but not limited to, business, economic and capital market conditions, the ability to manage operating expenses, and dependence on key personnel. Such statements and information are based on numerous assumptions regarding present and future business strategies and the environment in which the Company will operate in the future, anticipated costs, and the ability to achieve goals. Factors that could cause the actual results to differ materially from those in forward-looking statements include, the continued availability of capital and financing, litigation, failure of counterparties to perform their contractual obligations, loss of key employees and consultants, and general economic, market or business conditions. Forward-looking statements contained in this news release are expressly qualified by this cautionary statement. The reader is cautioned not to place undue reliance on any forward-looking information.
The forward-looking statements contained in this news release are made as of the date of this news release. Except as required by law, the Company disclaims any intention and assumes no obligation to update or revise any forward-looking statements, whether as a result of new information, future events or otherwise.
The CSE has not reviewed, approved or disapproved the contents of this news release.
A photo accompanying this announcement is available at https://www.globenewswire.com/NewsRoom/AttachmentNg/5b67ee87-db78-46e4-b426-e1421983c354